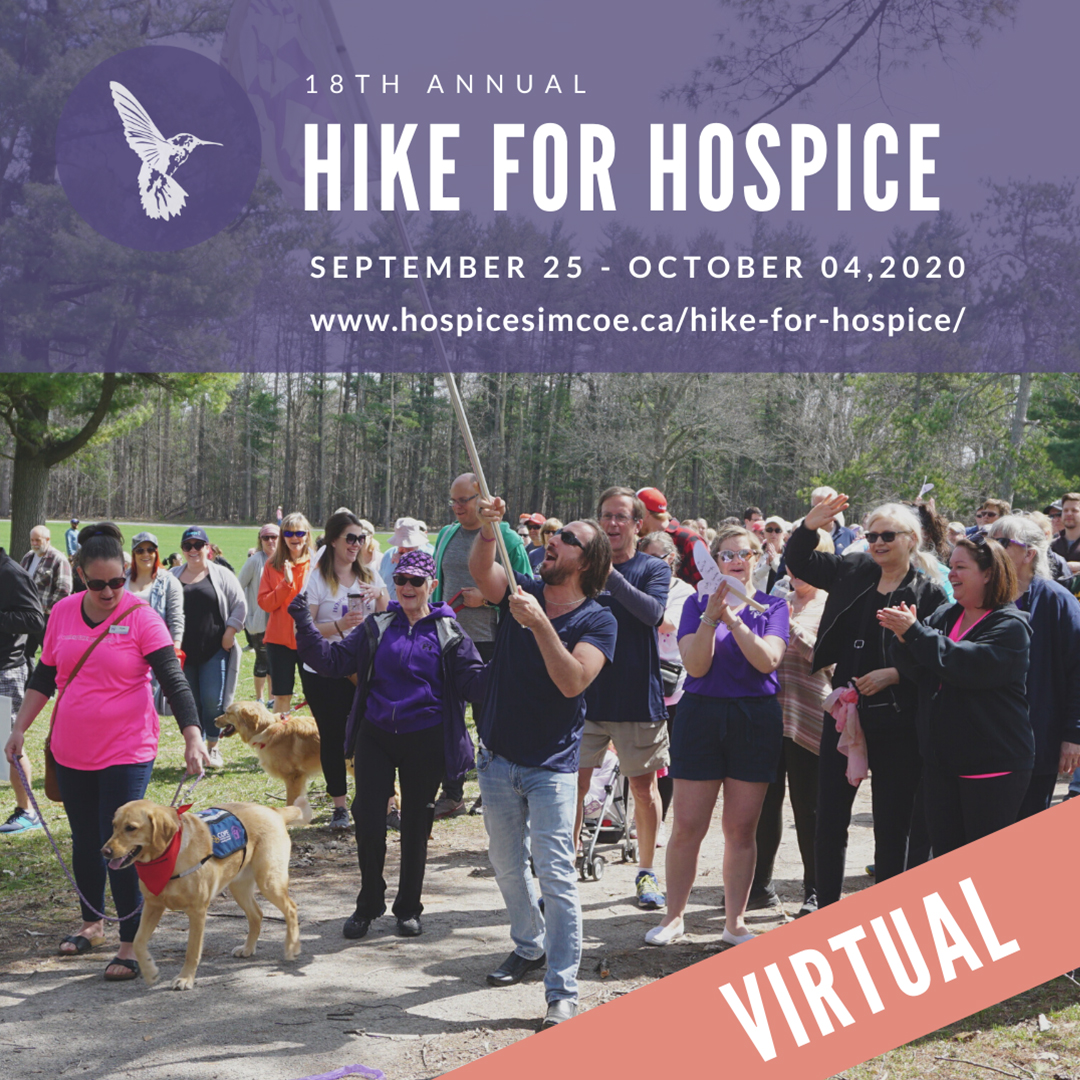 We are going virtual!
September 25th – October 4th, 2020
Walk, jog, bike, tread mill, climb stairs, skip rope, 'work out' or whatever other activity you can think of. You can choose when and how you 'hike' for us during that 10 day period. Choose whatever distance and skill level is appropriate for you. Whatever you decide, please adhere to public health guidelines regarding the number of people that can gather together.
If you did not keep the pledge form sent to you in March, we would be happy to send you another one or you can register and collect your pledges online.
Start collecting your pledges now. You can keep track of the on-line donations on the Hike page you set up.
PLEDGE FORM DROP-OFF DATES:
If you are collecting cash or cheques and using a paper pledge form, we ask that you drop them off to Hospice Simcoe during the designated dates/times.
Friday, October 2 | 12:00PM to 6:30PM
Saturday, October 3 | 10:00AM to 2:00PM
We ask that you arrive at our Residence (336 Penetanguishene Rd. Barrie) and drop off your pledge forms and money to our Hike volunteers.
Weather permitting, our Hike volunteers will be in the gazebo, located on the North side of the building just beyond the accessible parking spots in our front lot. In case of inclement weather, our volunteers will be at the corner window near the gazebo.
We ask that you please wear a mask and practice safe social distancing (6 feet) if there is a line up.
The health, safety and well-being of our clients, residents, visitors, volunteers and staff are of the utmost importance to us. Hospice Simcoe is following Ministry directives and Public Health guidelines during the emergence and development of the COVID-19 pandemic.
If you have any questions, please contact lynda@hospicesimcoe.ca | 705-722-5995.
Corporate sponsorships covered all costs for this event, so pledges and donations raised by participants come directly to Hospice Simcoe's programs and services.
Last year's Hike broke a new record with over 700 participants and over $110,000 raised. Thanks to all of you, this event has become our biggest annual fundraiser.
Don't forget to visit our Facebook page for regular Hike updates.
The Hike for Hospice has become an annual tradition for many families and friends to honour the memories of their loved ones. We invite you to create a team, gather pledges, and walk to raise funds to support Hospice Simcoe's services in your community.
For information, please contact Hospice Simcoe at (705) 722-5995 or lynda@hospicesimcoe.ca
Thanks to our sponsors and supporters!
Stay connected with us through our events calendar. Here you will find our Hospice hosted events along with community hosted fundraising events.
See All Events