2023 Annual Appeal is on!
Our Annual Appeal is underway until December 31st. Funds will be directed to our Community Grief & Bereavement Programs & Services.
DONATE TO ANNUAL APPEAL NOW
Hospice Simcoe
We are committed to providing compassionate,
expert care and support to our community
DONATE NOW
Grief & Bereavement Programs
A variety of groups and programs are
available to our community - Free of Charge
Learn more
Compassion. Support. Care.
Hospice care for all of Simcoe County.
As a specialized form of healthcare, hospice palliative care aims to relieve suffering and improve the quality of life for those living with a life limiting illness, as well as their families. Hospice palliative care addresses the specific physical, psychological, social, spiritual, and practical issues, and their associated expectations, needs, hopes and fears on an individual basis.
Support is available from the initial diagnosis of the illness for as long as support is required. Most clients come to us after receiving a cancer diagnosis but our supports are available for anyone living with any life threatening illness. This includes, but is not limited to HIV/AIDS, end-stage lung, kidney or heart disease, ALS and advanced neurological conditions.
WATCH OUR VIDEO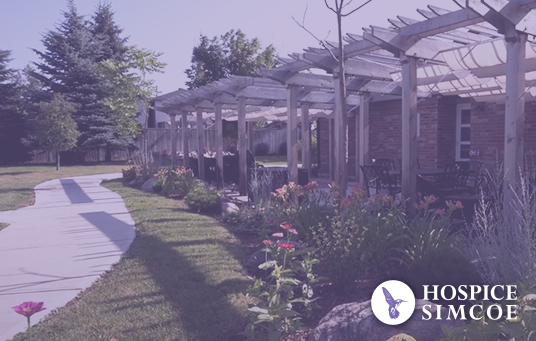 24 hour care in a place that feels like home.
At Hospice Simcoe, we are committed to providing compassionate, expert care and support. The residents and families are at the centre of care. We respect the autonomy of the resident and family in the decision-making process and we are here to assist, educate, support and guide you and your family towards a dignified end of life journey and death, where you are comfortable and can feel at home.
see our residence
Cope with your grief together, through living and grieving.
Grief is an individual experience, however it does not need to be done alone. Using a person-centred approach Hospice can provide support unique to the individual's needs, while offering a community where people can openly share in their grief.
Find out more
Contribute to Hospice Simcoe and make a difference.
Our Volunteers bring warmth, compassion and support to Hospice Simcoe and the families that we serve. We are honoured to have so many incredible individuals who give their time and talents to our residents, clients and their families.
Volunteer
"This place was a home away from home with the love and care for my dad before he passed. The rooms are separate, quiet, and peacefully decorated and the staff is amazing. No rushing us, and reassuring us the doors are always open for us to return, grieve and visit. The amazing people there including the volunteers made us feel loved and apart of their family. Thank you for all you do!"
"Absolutely the best possible care is given to your loved one and amazing support for your family during these times. Our stay was 13 days and nothing but dignity and respect was shown."
"Hospice Simcoe was there for my entire family including my precious Dad who passed away there this February. The gentleness, kindness, understanding of all those who serve there, from the volunteers, to the administration – it is an amazing place. This is a need that we certainly didn't realize that needed to be filled – and Hospice Simcoe fills it beautifully."
"My child felt supported and not alone while receiving bereavement support. It was great for them to see other kids going through the same thing & understand that grieving is natural. Thanks for everything that you do. You all go above and beyond."
"Being at Hospice Simcoe with my mother saved us as a family. I finally was a daughter, a mother to my children , and could sleep better at night knowing she was checked constantly. The funny part was my mother loved hummingbirds and they are like the mascot of Hospice Simcoe – everything was like it was meant to be. A dream I had was to plan and host my parents renewing their vows which I was able to do there. She passed a day later, but the love we all felt in those moments were so amazing."
"My father spent his last days in this amazing facility in April. Walking in the smell of fresh baking welcomes you. The staff are fabulous and seem to know exactly what grieving family members need. A very special place and extremely kind, thoughtful staff and volunteers. Thanks again for such wonderful care of my father."
"What you do in this incredibly special place is beyond words and thoughts. Thank you from our hearts to each and every one of you. You've made the heartbreak and pain of loosing a parent a little easier with your compassion and care."
"Even though one's grief is one's own journey and no one can live it for you, it was good to have the company of peers who can relate to your stages of sorrow and loss."
"I feel I was able to heal/get control of my grief and bereavement through the 1:1 peer support. My facilitator was able to help me sort out of feelings/grief well."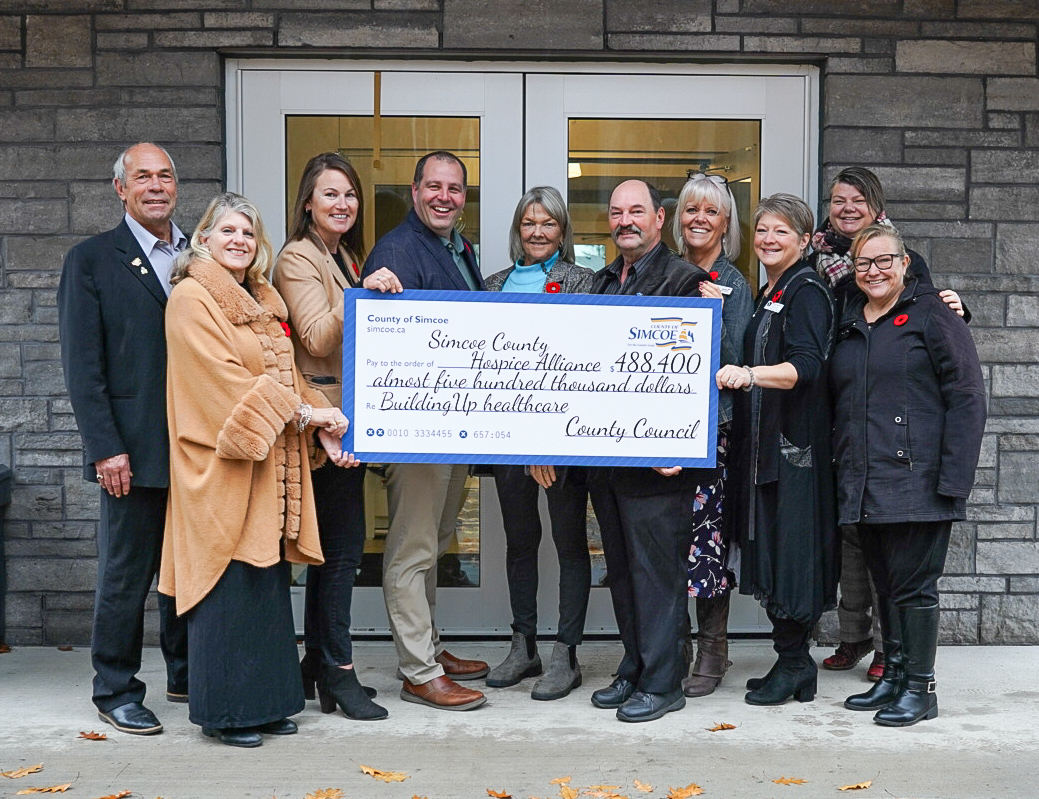 Media, Newsletters, & Stories
Media Release – County Invests in Building Up Residential Hospice Care
Midhurst/November 6, 2023 – This morning, County of Simcoe Councillors joined representatives from the Simcoe County Hospital Alliance at Hospice ...
CONTINUE READING
Media, Newsletters, & Stories
Media Release – RVH and Hospice Simcoe benefit from the deliciously successful Tim Hortons Smile Cookie campaign
Barrie, May 29, 2023 – A record-breaking $19.7 million has been raised for more than 600 local charities and community groups through the sales of...
CONTINUE READING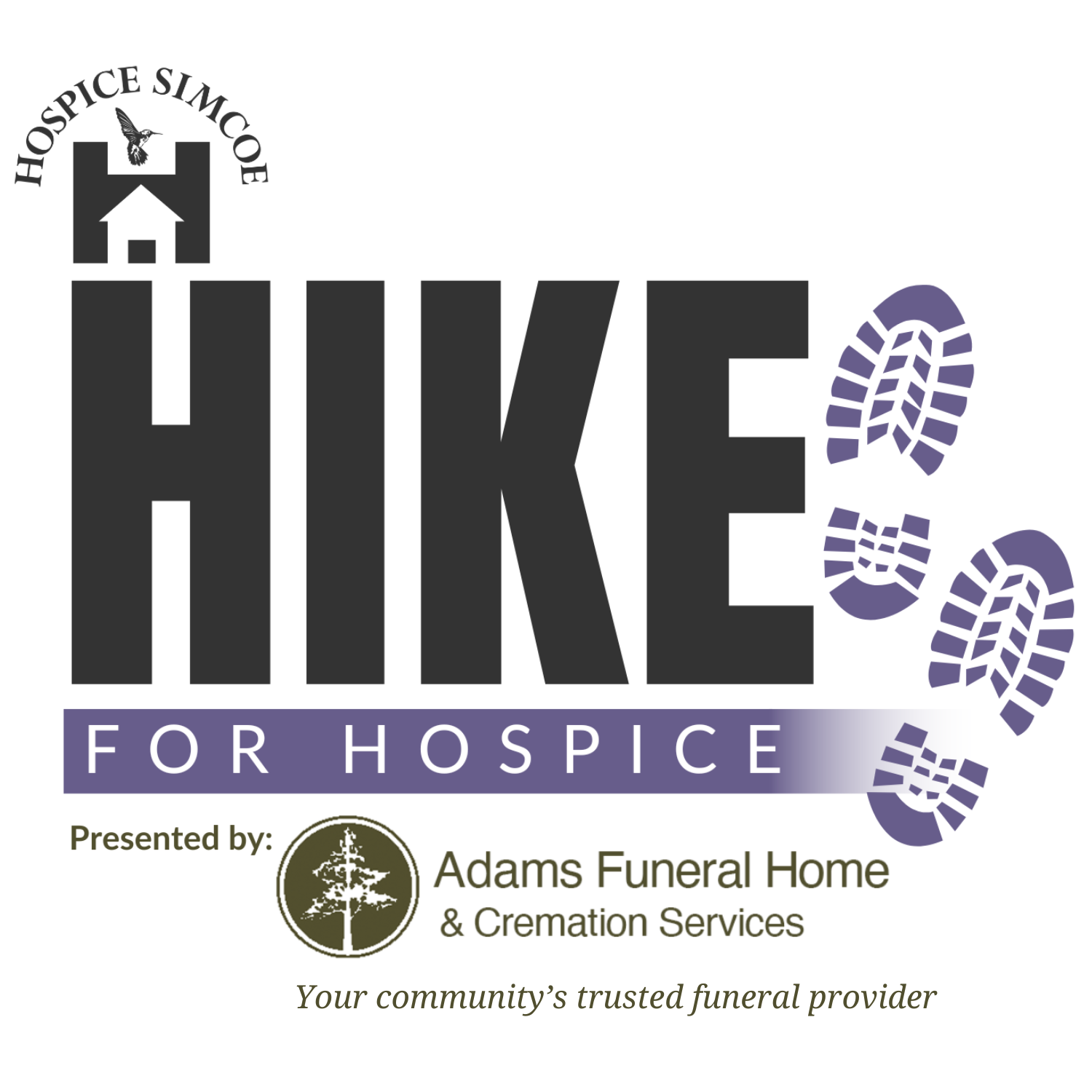 Media, Newsletters, & Stories
MEDIA RELEASE – Annual Hike for Hospice Fundraiser Returns
Barrie, April 11, 2023 – Barrie, ON - Hospice Simcoe's Hike for Hospice returns on May 7th. This annual event is an opportunity for families ...
CONTINUE READING
see all media and stories
explore our community support programs
Our Social Worker and volunteer team provides emotional, spiritual and psychosocial support to dying individuals and their families from the time of diagnosis through to bereavement.
Our Community Programs are available to all ages, whether or not you have had previous contact with Hospice Simcoe.
view programs
Sign up for our newsletter
Read about what's happening in the world of Hospice Simcoe. We are celebrating our volunteers, connecting with staff, sharing great information and community support! Thank you for reading our monthly Volunteer Newsletter and staying in touch with us.