Volunteering with Hospice Simcoe
Our Volunteers bring warmth, compassion and support to Hospice Simcoe and the families that we serve. We are honoured to have so many incredible individuals who give their time and talents to our residents, clients and their families at both our Residence and Community Support locations, and in the community. It takes a special kind of person to volunteer in a hospice environment and we are truly grateful for each and every volunteer.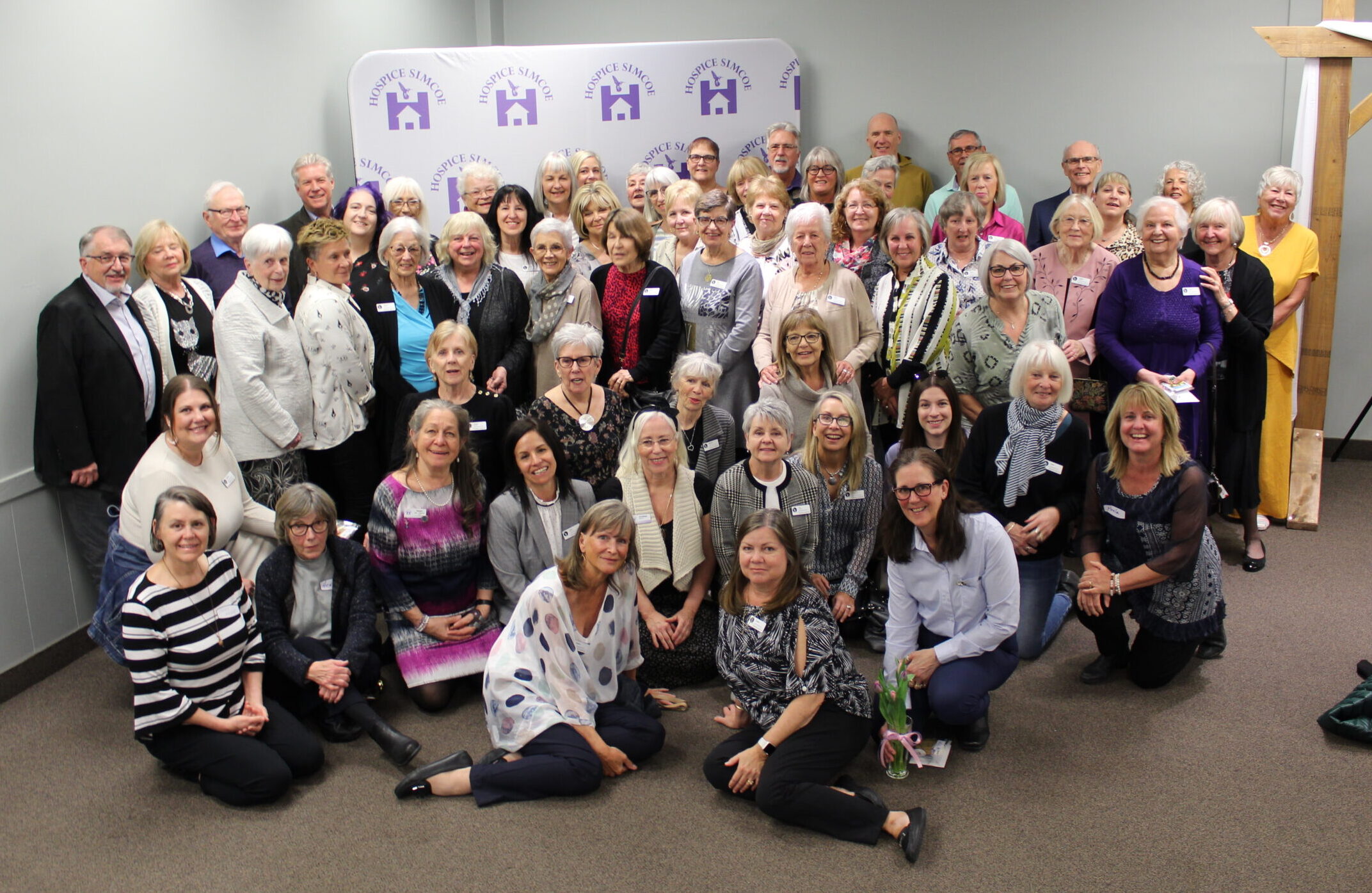 Hospice Simcoe Volunteers are an integral part of our team and a fully integrated component of the organization's human resources. Hospice Simcoe was founded by volunteers, and we continue to rely on them for support in quality resident/client care, bereavement support, administration and governance. Hospice Simcoe has chosen to adopt the Canadian Code for Volunteer Involvement as a statement that defines our values and beliefs around volunteerism. Hospice Simcoe is a member of Volunteer Canada and PAVRO (Professional Administrators of Volunteer Resources Ontario) and follows best practices in volunteer engagement.
BECOME A VOLUNTEER
When applying to become a Hospice Simcoe Volunteer, we ask that you consider a few things:
Have you experienced a close loss within the last year?
Must commit to more than one year of continuous service and to 30+ hours of training (both in person and online).
Understand that some volunteering roles are dependent on referrals and scheduling needs and resources.
All volunteers are required to submit a Police check and proof of COVID-19 vaccination.
frequently asked questions
We have a variety of volunteer roles including:
Home Visiting Hospice Service Program
Bereavement and Grief Support
Children and Teen Bereavement
Residential Client Care
Kitchen
Reception
Fundraising
Gardening
Leadership
Maintenance
Administration
Community Outreach Program
Musicians
Complementary Therapist
For more detail about these volunteer roles, please contact Susan or Connie at 705-722-5995.
Our training is 12 hours of in class training as well as ~15 hours of online training through HPCO (Hospice Palliative Care Ontario).
Yes, we train all of our volunteers the same way so that they have the ability to move to any role as they see fit. Volunteers will have to deal with sensitive subject matter and we want to prepare you with the resources you would need.
Due to the robust nature of our training and guidelines provided by Hospice Palliative Care Ontario, we ask that volunteer commit to a minimum of 1 year with us. Volunteers on average will commit to anywhere from 8-10 hours per month, depending on the role they have. Some roles (like In home visiting or bereavement) depend on the availability of referrals and clients, and have more of a flexible time commitment. We have opportunities available in the mornings, afternoons and evenings, either during the week or on weekends.
Thank you for wishing to support Hospice Simcoe as a volunteer and taking time to complete the Volunteer Application. Volunteer Resources screen all applications and will contact those applicants most appropriate for available positions to arrange an interview. Due to the high volume of applications, we are unable to accommodate everyone.
The process of becoming a volunteer for Hospice Simcoe consists of the following:
Submission of an online application.
Interview with the Volunteer Coordinator about the potential opportunities and discuss how you would best fit into the available volunteer roles.
Volunteer Coordinator follows up with your references and a Police record check will be requested, along with proof of COVID-19 vaccination.
Once approved, complete further application process including; in-class and online training, orientation, confidentiality agreement and code of conduct.
New volunteers will attend a post training interview to discuss the best fit of your skills and the volunteer opportunities that are available.
We strive to "engage" volunteers and work hard to make sure that your volunteer time is wisely spent in an area that is a good fit for both parties.
Thank you for your interest in becoming a volunteer for Hospice Simcoe. Please make sure you have read the above information before applying to be certain you have fully considered what makes a good volunteer candidate.
To apply, please fill out our online application form below or print and complete the application and return it by mail, fax or in person.
If you require further information please call Susan Haiplik, Volunteer Coordinator at 705-722-5995.
Apply Online
Print Application