Kids Grief Matters (virtual)
October 26, 2021 @ 7:30 pm

-

8:30 pm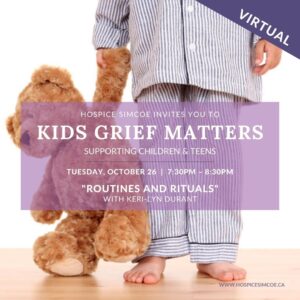 Being a caregiver for children and teens is tough. You can forever be fretting about whether or not you've made the right choices regarding their care and upbringing, and how these decisions will shape their future. When you add in that your children/teens are grieving due to a person in their world that is dying, or has died; what to do to support them can be hard to navigate. Know that you are not alone, and there is a community of people out there to help.
Join us for Hospice Simcoe's Kids Grief Matters. This series of workshops is for Parents of bereaved children/teens, Service Providers and all people who have had children in their life impacted by an impending death loss, or a death in their life.
We will have guest speakers each month on the second Tuesday of each month to highlight topics that children/teens and parents/caregiver/service providers face before or after a death.

Tuesday, October 26 | 7:30pm – 8:30pm | Register Here
Routines and Rituals with Keri-Lyn Durant from Hospice Georgian Triangle
Please stay tuned and follow Hospice Simcoe's social media for more detailed information on each event.
If you have any questions, please contact 705-725-1140 | [email protected]