The full $1 from every Tim Hortons Smile Cookie sold supports RVH's Birthing Unit and Hospice Simcoe.

Barrie, September 13, 2022 – For more than 25 years, Tim Hortons restaurant owners have shown their dedication to local communities through the annual week-long Smile Cookie campaign, with 100 per cent of the proceeds from the sales of chocolate chunk cookies donated to a charity. For the fourth year, proceeds from restaurants in Barrie and Stroud will support Royal Victoria Regional Health Centre's (RVH) Birthing Unit and Hospice Simcoe.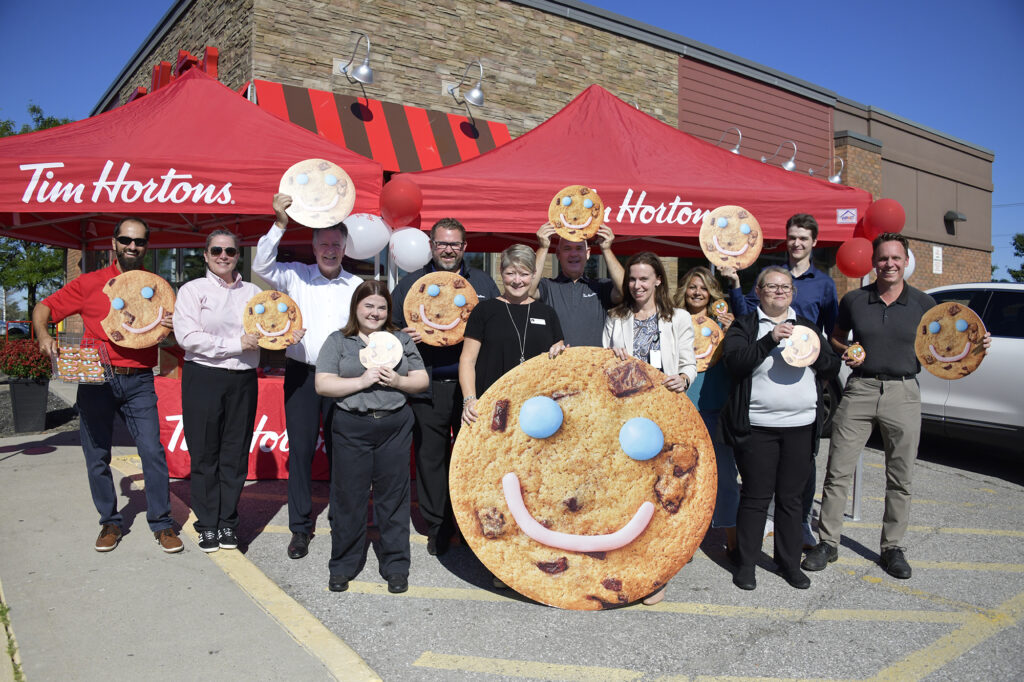 ---

Tim Hortons restaurant owners across North America have raised over $77 million through Smile Cookies, including a record-breaking $12 million raised last year alone.
This year, more than 600 different charities and community groups will be supported through the Smile Cookie campaign which runs from September 19 through September 25. Guests can complete a form to place preorders for Smile Cookies through the restaurants in Barrie or Stroud, or download a preorder form at www.smilecookieRVHHospice.ca.

---
Quotes
"Each year, 2,000 babies are born at RVH in space that hasn't seen a major upgrade or expansion since it was built 25 years ago. With our population growing at a breathtaking pace, the families who count on us need more and better space in which to welcome their newest additions," says Pamela Ross, CEO, RVH Foundation. "Our heartfelt thanks go out to Tim Hortons, as its Smile Cookie Campaign will support an expanded, state-of-the-art Birthing Unit at RVH – giving our tiniest patients the healthiest start possible."

Pamela Ross, CEO, RVH Foundation

"We are extremely grateful to be participating in the Smile Cookie Campaign! The proceeds from this wonderful initiative go directly to programs and services that support people who are dying or bereaved in our community," says Kelly Hubbard, Executive Director, Hospice Simcoe. "Our services, providing high quality care and bereavement support are needed now more than ever. We are very thankful to the Barrie and Stroud Tim Hortons for their incredible, ongoing support."

Kelly Hubbard, Executive Director, Hospice Simcoe

"At Tims, we're incredibly proud of our annual Smile Cookie initiative that directly impacts each and every community in which we operate", says Axel Schwan, President of Tim Hortons. "With the support of guests, restaurant owners, team members and volunteers across the country, we look forward to directly supporting hundreds of organizations in communities across the country."

Axel Schwan, President, Tim Hortons
---
Tim Hortons Smile Cookie Campaign Facts
From September 19 to 25, 100 per cent of proceeds from sales of Smile Cookies will support more than 600 charities and community groups in Tim Hortons' communities from coast to coast to coast, including patient care in Royal Victoria Regional Health Centre's (RVH) Birthing Unit and Hospice Simcoe.

Smile Cookie has raised over $77 million across North America since 1996 and last year alone raised a record $12 million.

To participate in this year's Smile Cookie campaign, visit your local Tim Hortons restaurant or place an order through the Tim Hortons mobile app for delivery.

To learn more about this year's local campaign in Barrie and Stroud, visit SmileCookieRVHHospice.ca.

---
Join the Smile Cookie Conversation:
Use the hashtag #SmileCookie
Tag or follow on Instagram @TimHortons & @hospicesimcoe & @rvh_foundation
Tag or follow on Twitter @TimHortons & @hospicesimcoe & @RVHFoundation
Like on Facebook @Tim Hortons & @HospiceSimcoe & RVHFoundation
Subscribe on YouTube @TimHortons
– 30 –
About TIM HORTONS®
In 1964, the first Tim Hortons® restaurant in Hamilton, Ontario opened its doors and Canadians have been ordering Tim Hortons iconic Original Blend coffee, Double-Double™ coffees, Donuts and Timbits® in the years since. Over the last 55 years, Tim Hortons has captured the hearts and taste buds of Canadians and has become synonymous with serving Canada's favourite coffee. Tim Hortons is Canada's largest restaurant chain operating in the quick service industry with nearly 4,000 restaurants across the country. More than a coffee and bake shop, Tim Hortons is part of the Canadian fabric and guests can enjoy hot and cold specialty beverages – including lattes, cappuccinos and espressos, teas and our famous Iced Capp® – alongside delicious breakfast, sandwiches, wraps, soups and more. Tim Hortons has more than 5,100 restaurants in Canada, the United States and around the world. For more information on Tim Hortons visit TimHortons.ca
About Royal Victoria Regional Health Centre (RVH):
RVH is a regional health centre in Barrie, Ontario, located 80 kilometres north of Toronto. As the largest hospital in the region of Simcoe Muskoka, RVH's team of over 450 physicians, 3,300 employees and 615 volunteers provides exceptional care and specialty services to almost half a million residents, including regional services such as: advanced cardiac, cancer, child & youth mental health, renal, stroke, orthopaedics, intensive care and interventional radiology. RVH is focused on delivering high-quality, safe care that puts patients and their families first. For more information visit rvh.on.ca.
About RVH Foundation:
The RVH Foundation works every day to mobilize our community, to inspire life-changing giving and to create life-enriching experiences in support of RVH. Donor support in Barrie and across the Simcoe Muskoka region makes world-class care possible, from state-of-the-art equipment, technology and ground-breaking programs to enhanced spaces, research, and innovation.
About Hospice Simcoe:
For the dying and the bereaved, Hospice Simcoe provides compassionate, expert care and services to ease the pain – before during and after their journey. We provide Home Visiting, Residential Care and Bereavement Support. Our 10 private bedroom residence is located in Barrie and there is no cost for any
of our services. Hospice Simcoe is a registered charity that relies on donations from the community for more than 50 per cent of our operating costs. For more information visit www.hospicesimcoe.ca.
---
FOR MORE INFORMATION CONTACT:
Hospice Simcoe Media Contact: Marilyn Guest
(705) 722-5995 ext. 245 | marilyn@hospicesimcoe.ca
RVH Media Contact: Donna Danyluk
(705) 728-9090 ext. 41610 | DanylukD@rvh.on.ca
Tim Hortons Media inquiries
mediainquiries@timhortons.com
---
Back to Media, Newsletters, & Stories