Barrie, February 14, 2023 –
Barrie, ON – On Monday, local MPP Doug Downey met with the team at Hospice Simcoe to hear more about the $111,800 grant from the Ontario Trillium Foundation (OTF)'s Resilient Communities Fund that the organization received last year. The grant supports an expansion of the Bereavement Program offered by Hospice Simcoe to the Barrie area.
"This OTF funding announcement has helped, and will continue to help provide extended bereavement programs for our community," said Doug Downey, MPP for Barrie–Springwater–Oro-Medonte. "Having the resources and supports for people to receive end of life care and access bereavement support locally will help families as they transition through this difficult time."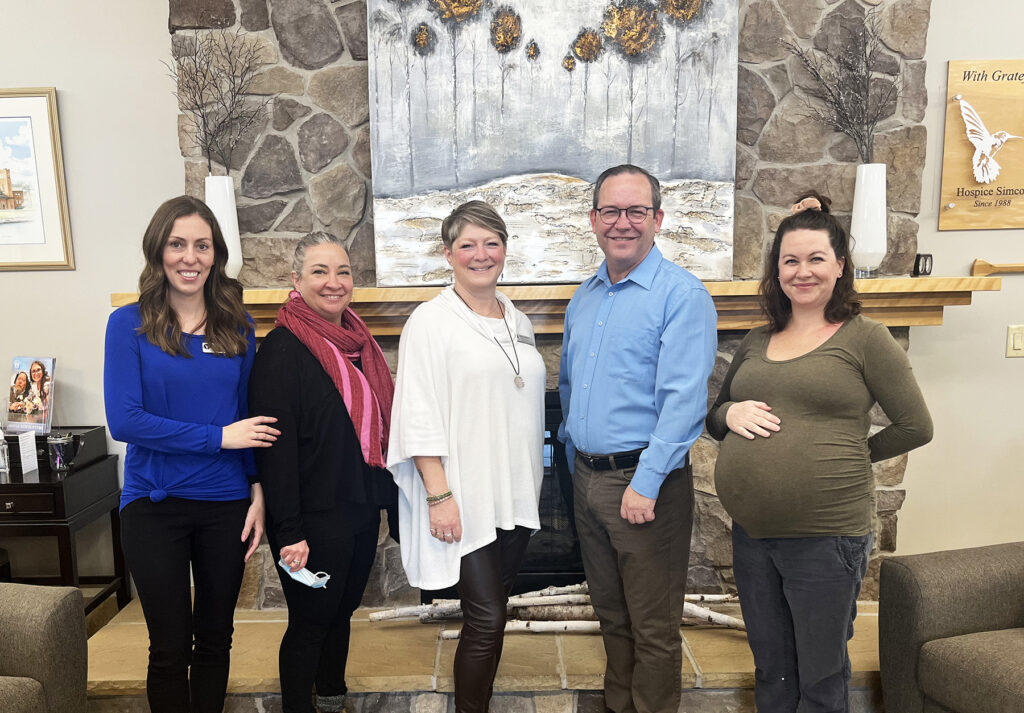 ---
Hospice Simcoe's Bereavement and Community Support team is located on Bell Farm Road and is staffed by five social workers, an intake administrator, and a COPE dog. Each year more than 500 people from the Barrie area receive support through their programs and, as with their residential services, their programs are provided at no cost.
"Over the past few years, we have seen an increase in referrals for our Community Programs. Not only have our numbers increased, but the intensity of the stories we are hearing has also heightened. The OTF Resilient Community Fund grant allowed us to secure an additional Social Worker to assist with the increase of referrals, provide innovative programming, reduce wait times for services, as well as provide bereavement education for healthcare workers. We hope to secure additional funding so that we can continue to provide these services." said Teneal Campbell, Community Programs Manager.
---
For the dying and bereaved, Hospice Simcoe provides compassionate, expert care and services to ease the pain – before, during, and after their journey. We provide home visiting, residential care, and bereavement support. Hospice Simcoe is a registered charity, and their services are provided at no cost to those in need. If you would like to learn more about Hospice Simcoe's services call 705-725-1140.
The Ontario Trillium Foundation (OTF), an agency of the Government of Ontario, and one of Canada's leading granting foundations celebrated 40 years of grantmaking in Ontario and making a lasting impact in communities. Last year, OTF invested nearly $209M into 2042 community projects and partnerships, which included funding for the Government of Ontario's Community Building Fund. Visit otf.ca to learn more.

About Hospice Simcoe:
For the dying and the bereaved, Hospice Simcoe provides compassionate, expert care and services to ease the pain – before, during, and after their journey. We provide home visiting, residential care, and bereavement support. Our 10 private bedroom care home is located in Barrie and there is no cost for any of our services. Hospice Simcoe is a registered charity that relies on donations from the community for more than 50 per cent of our operating costs. For more information visit www.hospicesimcoe.ca 
---

– 30 –
---
FOR MORE INFORMATION, PLEASE CONTACT:
Hospice Simcoe, Fund Development Manager: Marilyn Guest
(705) 722-5995 ext. 245 | [email protected] 
---
Back to Media, Newsletters, & Stories